Goya's eyes at the Museum of Fine Arts
One of the first paintings one sees upon entering the Francisco Goya (1746-1828) exhibition at the MFA is this little royal child in red. Big brown Spanish eyes like his appear throughout the show, especially in the faces of the privileged.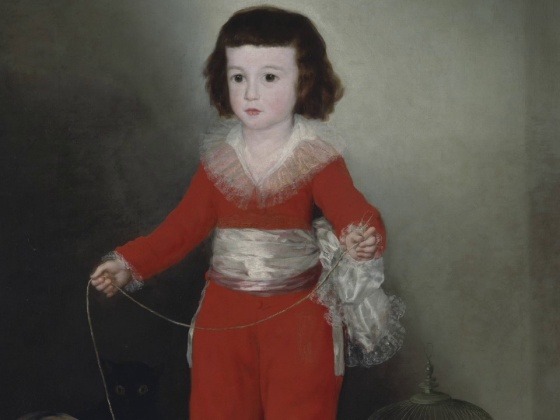 Goya was aware of class differences and he used color in part to illustrate those differences.  He was delighted by the movement of leisure activities, fascinated by the brutality of violence and war.
The giant is the picture of the outcast and the disenfranchised. Without clothing or color he broods in the twilight. He has no place in the palace or in the church. He is the massive form of the poor masses. He is power and violence.
Last Communion of St. Joseph of Calasanz, by Goya, 1819
This is the last painting in the exhibition. The old priest's eyes are nearly closed. He receives a careful and graceful ministration from a brother priest whose own eyes show deep compassion. Behind these two are the roiling crowds, ever present to Goya.