The Haunted Life by Jack Kerouac at Merrimack Repertory Theatre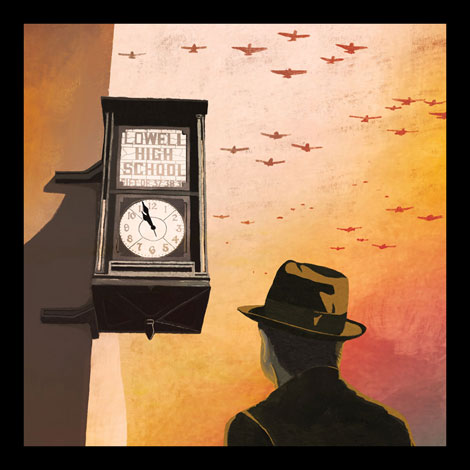 Sometime around 1850, Thoreau walked to Walden. There, among his other thoughts, were worries about what America was becoming, as the railroad was built beside his beloved pond. One hundred years later, and thirty miles north, Jack Kerouac worried about the America his immigrant father thought was crumbling under the weight of new immigrants, from other places, arriving to work in the mills.
Merrimack Repertory Theatre in Lowell presents pure Kerouac, in Kerouac's hometown, Lowell, Massachusetts. The script is by Sean Daniels, based on Kerouac's unfinished trilogy of novels. The cast is diverse; the setting is pre-WWII. Themes of family and gender differences, of walls and war, of childhood lost and of the small town neatness messed up by warring instincts, are all there again.
It's worth a drive to Kerouac's town, where the American industrial revolution was born, to hear his words, when he was a young man. The parking is free in the lot of the hulking Catholic church next to a mill building, across the street from the theater.